Alat Uji Emisi Perhitungan Partikel Gas Buang
Pengenalan perhitungan partikel pada gas buang kendaraan bermotor untuk PTI sedang diterapkan oleh beberapa negara Eropa.
COSBER telah mengembangkan solusi yang andal dan cepat untuk mengukur konsentrasi nilai partikel secara efisien. C-EPC70 menggunakan prinsip pengukuran Extended Diffusion Charging.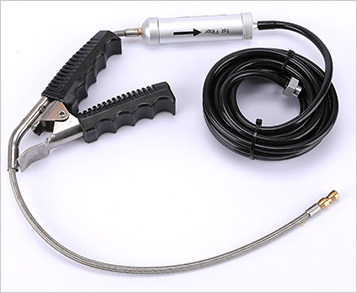 Penerapan Regulasi
Perhitung partikel memenuhi persyaratan untuk mengukur konsentrasi jumlah partikel yang ditetapkan oleh undang-undang yang disahkan di Belanda, Belgia, dan Swiss. Persetujuan Negara lain lebih lanjut sedang dalam persiapan.
Charactristics:
Integrasi yang mudah

C-EPC70 dapat diintegrasikan ke dalam semua penguji emisi COSBER.
Ini dapat digunakan selain fungsi uji emisi dan opacimeter atau sebagai unit mandiri.

Perawatan sederhana

Pengukuran membutuhkan waktu kurang dari 30 detik saat idle.
Tidak perlu akselerasi yang mencemari, berisik dan membuat stres mesin dan operator.

Ekonomis dan berkelanjutan

C-PN menggunakan prinsip pengukuran ExtDC tanpa jelaga. Desain berkelanjutan menjaga sensor tetap bersih untuk masa pakai yang lebih lama.
High Avability
Without Cleaning
Without Re-Calibration
Without Consumables
No soot deposit
No flammable operating liquid
Insensitivity to vibrations
Position-independent during the measurement
No dilution
No compressed air needed
Kehandalan dan pengulangan
ExTDC terdiri dari pengisian listrik partikel melalui difusi ion dengan kepadatan tinggi (positif) yang dihasilkan dalam ruang ionisasi oleh efek korona.
Konsentrasi partikel bermuatan diukur saat meninggalkan sensor, pengukuran yang sesuai dengan arus bocor per satuan waktu.
Karena arus bocor ini sebanding dengan jumlah partikel (dan luas permukaan spesifiknya) yang meninggalkan sensor per detik, konsentrasi dalam jumlah dan bahkan massa partikel dapat dengan mudah dilacak.
Aplikasi :
Peluang baru untuk mekanik: penggunaan cepat yang membutuhkan sedikit perawatan, C-EPC70 mengukur partikel tanpa perawatan pengguna yang mahal atau bahan habis pakai yang mahal.
Pengukuran dilakukan saat idle, tanpa perlu akselerasi bebas, polusi, bising, dan stres baik untuk mesin maupun operator. Desain pass-through membantu menjaga sensor tetap bersih untuk waktu pengoperasian yang lama.
Dilakukan dalam waktu kurang dari 30 detik, prosedur tersebut memberikan indikasi yang jelas tentang kondisi filter: dalam kondisi baik, retak, atau dimanipulasi. Menggunakan C-EPC70 sederhana dan intuitif karena dikontrol dari terminal mana pun (komputer, tablet, smartphone) di bawah Windows.
Solusi bebas polusi yang dipatenkan
Partikel asap tersedot oleh efek Venturi berkat aliran udara bersih dan bermuatan elektrostatis (15 KV) pada input sensor. Tidak ada risiko penyumbatan filter dan pompa.
Specification :
Limit of Detection: 1.000#/cm3
Measuring range: 5.000 - 5.000.000 #/cm3
Display resolution: 1.000 #/cm3
Response time: < 10s (T0 to T95)
Power Supply: 100-260VAC - 50-60Hz
Detection efficiency:

20 – 60% / 23nm +/- 5%
60 – 130% / 50nm +/- 5%
70 – 130% / 80nm +/- 5%

Connection: Bluetooth
Device: PC or tablet
Systems: Windows